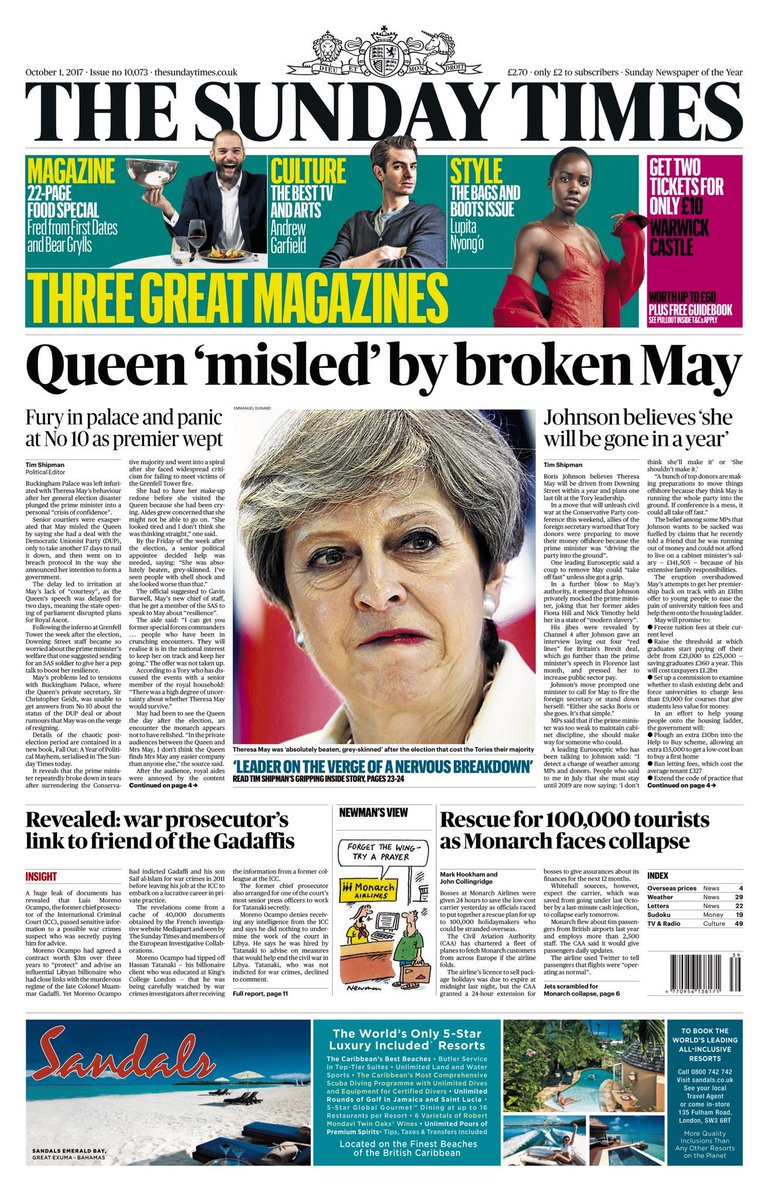 Buckingham Palace was left infuriated with Theresa May's behaviour after her general election disaster plunged the Prime Minister into a personal "crisis of confidence".

Senior courtiers were exasperated that May misled the Queen by saying she had a deal with the Democratic Unionist Party (DUP) only to take another 17 days to nail it down, and then went on to breach protocol in the way she announced her intention to form a government.

The delay led to irritation at May's lack of "courtesy", as the Queen's speech was delayed for two days, meaning the state opening of Parliament disrupted plans for Royal Ascot.

Following the inferno at Grenfell Tower the week after the election, Downing Street staff became so worried about the prime minister's welfare that one suggested sending for an SAS officer to give her a pep talk to boost her resilience.

May's problems led to tensions with Buckingham Palace, where the Queen's private secretary was unable to get answers from No 10 about the status of the DUP deal or about rumours that May was on the verge of resigning.

Details of the post-election period are contained in a new book, Fall out: A Year of Political Mayhem, Serialised in the Sunday Times today.

It reveals that the Prime Minister repeatedly broke down in tears after surrendering the Conservative majority and went in to a spiral after she faced widespread criticism for failing to meet victims of the Grenfell Tower fire.

She had to have her makeup redone before she visited the Queen because she had been crying. Aides grew concerned that she might not be able to go on. "She looked tired and I didn't think she was thinking straight", one said.

By the Friday after the week of the election, a senior political appointee decided help was needed, saying "she was absolutely beaten, grey-skinned. I've seen people with shell shock and she looked worse than that".

The official suggested to Gavin Barwell, May's new chif of staff, that he get member of the SAS to speak to May about "resilience".

The aide said "I can get you former special forces commanders ... people who have been in crunching encounters. They will realise it is in the national interest to keep her on track and keep her going". The offer was not taken up.

According to a Tory who has discussed the events with a senior member of the Royal Household: "There was a high degree of uncertainty about whether Theresa May would survive".

May had been to see the Queen the day after the election, an encounter the monarch appears not to have relished(?). In the private audiences between the Queen and Mrs May, I don't think the Queen finds any easier company than anyone else", the source said.
Might as well get it over with Treeza and force yet another election, who knew that brexit would be such fun?
Bozza has timed this perfectly.