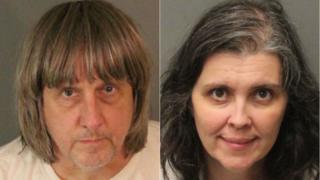 A Californian couple have been arrested after one of their children managed to escape the family home and notify the authorities, her parents were keeping her and her twelve siblings shackled to beds in the family home.
The seventeen year old girl and her eight sisters and three brothers are all now in hospital, where they're being treated for malnutrition and other health problems.
The couple David Allen Turpin who is 57 years old and his 49 year old wife Louise Anna Turpin have been charged with torture and child endangerment.
Bail has been set at $9 million dollars.
http://www.dailymail.co.uk/news/article-5272703/Police-13-siblings-chained-California-home.html